Harvest Health Fair
Join us for our BIGGEST and MOST POPULAR event of the year! This Year we are celebrating our 13th Annual Harvest Health Fair!
Saturday, September 23rd 11 AM-3PM
We are happy to be hosting a wonderful combination of local health & wellness professionals and Waukesha County non-profits who support harmonious living and well being. You'll have several opportunities to learn about alternative physical, mental, and spiritual health care solutions as well as participate in free mini services or demos and free classes.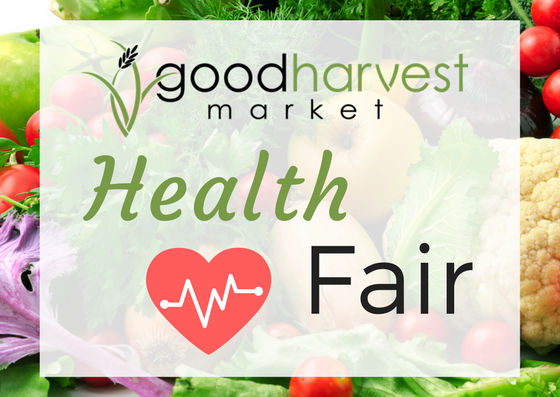 Health Fair Features
~Free Health & Wellness consultations and demo's from practitioners such as energy work and pain relief (see details below)
~Free Kid's Yoga (weather permitting)
~Free Kid's Crafts with the Waukesha Community Arts Project (WCAP) and Prairie Hill School
~Organic Cookout
~Free Health & Wellness mini classes in store
~Waukesha Fire Department Ambulance for tours and safety info
(See full details below for all activities)

PLUS
~Good Harvest Booth, Raffles and Prize Wheel - stop at the Good Harvest table when you arrive and "Spin to Win" a free lunch or an awesome prize, plus, collect various samples of homeopathic supplements, beauty products and more!
---
~Local Product Samples - Several Local Wisconsin vendors will be here from 11-3 letting you taste delicious samplings throughout the store. Be sure and stop by to say "Hi" and get a taste from:
Angelic Bakehouse
Sashas Dressing
Beckys Caramels
Tabal Chocolate
Trust Local Foods
Afro Fusion
Get Juiced
Plus, Wine Tasting!
---
~Secret Salmon Sale - Don't miss out on our special sale of Wild Coho Salmon! The sale will run for 3 days only from Friday 9/22 through Sunday 9/24 while supplies last. We will have a limited supply at a fantastic price!

Free Mini Workshops
Take time for yourself and stop in one of the free workshops available. No registration necessary!
10:00-10:30 - Kids Yoga Ages 3-5
11:00-11:30 - Kids Yoga Ages 6-12
11:00-11:30 - Your Body as Beloved Partner
11:45-12:15 - 9 Ways to Make Life Better
12:30-1:00 - Have you had your hormones and thyroid tested properly?
1:15-1:45 - Rising Above: Becoming Wellness
Click here to see complete information about classes.

Free Kid's Activities
We are happy to be hosting both Prairie Hill Waldorf School and Waukesha Community Arts Project (WCAP) to lead kids on some fun art making activities.
Enjoy fun and colorful mask making with WCAP using found objects and salvaged art supplies!

Make Felted Butterflies with Prairie Hill!
Have your kids ever wanted to see the inside of an ambulance? The Waukesha Fire Department will be here with an ambulance from 11am-1pm to talk to you and your kids about any questions you have!

Cookout Details
We're grilling up some mouth watering delights from 11am - 3pm!
Come and enjoy a tasty sandwich on a Pretzilla Roll for just $3.25/ea!
House-made Brats
Kettle Range Red Pepper Mozzarella Brats ($4/ea)
Organic Portabella Mushrooms
All Natural Grass Fed Beef Hot Dogs
Plus for just $1.25/ea:
Organic Rocket Corn Salad
Chips
Soda
Bottled Water
We will also have local beer on sale!

Location
The health fair will take place in the Good Harvest parking lot:
2205 Silvernail Road, Pewaukee
(About 1/4 mile west of Hwy T/Grandview)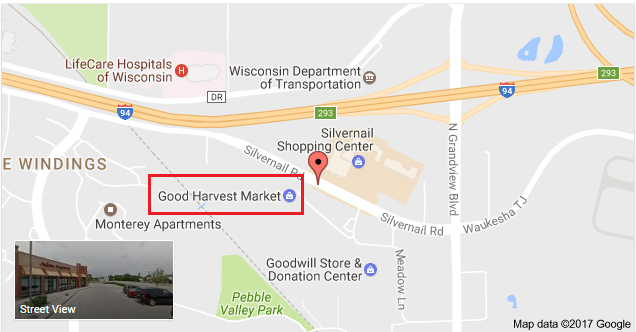 Health Fair Participants & Features
We have an exciting line up of local practitioners and non profit agencies who are joining us this year! See below for details. All consults & services offered are FREE!
1212 Bodyworks - Emily Yenor
Booth: Offering individual alignment scans: head to toe analysis of your posture imbalances and helpful hints to minimize pain and maximize your body's efficient movements.
About 1212 Bodyworks: At 1212 Bodyworks people of all ages can move toward a well-balanced life through a customized whole body approach that will identify and correct your unique muscle imbalances. Learn More Here
---
4 Rivers Center for Well Being - Kathy Ginn
Booth: Offering mini body centered transformation sessions, particularly on embodying paradigm shifts
About 4 Rivers: We are a group of holistic oriented professionals who's mission is to inspire, educate and empower our clients to embrace and follow the path to healing & wholeness. Our center provides an array of healing and wellness services along with a unique and dynamic transformational learning center. Our work flows from the spirit of love and service. Learn More Here
---
Better Health by Heather - Heather Ferber
Booth: Offering mini health history sessions and detox assessments
About Better Health by Heather: Heather Ferber is a certified holistic health coach who helps busy mom's get fresh, focused and energized. She is a detox specialist helping women to rebuild gut health, balance hormones, and thrive. She enjoys empowering moms to take back their health and feed their families better with simple, everyday suggestions that can be easily integrated into today's modern family hectic lives. You can find her on Fox6 Real MKE once a month, speaking and teaching classes in the community, cooking in her kitchen for family and friends, playing her piano to relax, or out running the family dog. Learn More Here
---
Food Addicts - Non Profit
Booth: Learn about Food Addiction and gain support
About Food Addicts Org: Food Addicts in Recovery Anonymous is an international fellowship of people who have experienced difficulties in life as a result of our relationship to food and eating. FA members are people of all genders and ages. We can be found all over the world--in North America, Europe, Africa, the Middle East, Asia, and Australia. Some of us have been obese, while others have been too thin or have joined because of struggles with bulimia. There are also members who have managed to stay at a normal weight but remain constantly obsessed with food and with maintaining their weight. What we have in common is that our obsession with food has kept us from living fulfilling lives. Learn More Here
---
Integrative Dental Solutions - Dr. Supriya Shetty
Booth: Offering consultations regarding protocols for safe removal of mercury and heavy metals and the mouth and body connection
About Integrative Dental: Our mission is to restore and maintain natural health, function and beauty of our patients' mouths. We will do so using the most advanced techniques and bio-compatible materials known to dentistry in an environment that is relaxing, caring and safe. Most importantly, we will teach our patients how to maintain their health. Learn More Here
---
Lake Country Acupuncture - David Fife
Booth: Offering classic Chinese pulse and tongue diagnosis to explore individual health concerns as well as trigger point stimulation to immediately relieve and eliminate stubborn pain
About Lake Country Acupuncture: We use acupuncture, nutrition, herbal medicine, and any natural functional modality of health care to improve and sustain bodily function to improve people's lives. We want people to live longer, healthier and happier lives through the use of acupuncture and functional medicine, and educate the public about the benefits of this amazing medicine. Learn More Here
---
Northern Enlightenment - Kelly Kehl
Booth: Offering Esogetic Colorpuncture Light Therapy for happiness and relaxation or pain and decreased swelling
About Northern Enlightenment: Being an Educator, Kelly is a perpetual learner as well. She enjoys knowledge and learning new things. Kelly believes the best way to learn is through experience and through the experiences of others. She also believes that communication is a great gift and really listening to what and how things are said is imperative to healthy relationships. Kelly lives by the mantra that every day is a precious gift and it is up to us to make each day as wonderful and important as the previous one. Kelly follows her heart and approaches life with Love, Light and Laughter. Learn More Here.
---
Profoundly Peaceful Massage - Mary Beth Rezek
Booth: Offering sound massage with tuning forks to release tension on a deep level
About Profoundly Peaceful Massage: A variety of massages are offered to relieve stress, relax muscles, and improve circulation like Swedish, Thai, hot stone, and Lomi Lomi. Yoga classes are offered for adults and children. Sound Healing sessions are offered at full moon, and yoga nidra with singing bowls and the gong are offered to help you feel profoundly peaceful. Learn More Here
---
Reaching Treetops Yoga - Alyssa Konda
Booth: Offering Yoga and Tai Chi Consultations
About Reaching Treetops Yoga: We are a community based studio that offers classes for all ages and fitness types. Learn More Here
---
Renew Holistic Wellness - Kelly Kolodzinski
Booth: Offering food craving analysis and recommendations
About Renew Holistic Wellness: I'm your personal advocate for living an energized passionate life. I work with clients to help them create happy, healthy lives in a way that is flexible, fun and free of denial I practice a holistic approach to health and wellness, which means we will explore how all areas of your life are connected. I believe you can get healthy and stay healthy. The power is in your hands, I'll teach you to claim it. Learn More Here
---
Right Body Fitness - Ryan Bloor
Booth: Offering lifestyle change starter kits and a "guess the healthy bar" activity to win free training sessions
About Right Body Fitness: I guide people towards their weight loss and body composition goals through individualized nutrition coaching and personal training. Learn More Here
---
Rising Health Chiropractic Wellness - Dr. James Hauke
Booth: Offering computerized stress and nerve analysis and consultations of the spine and nervous system connection
About Rising Health: We use technology that is used on astronauts to detect the effects of stress on the body. We also offer state certified nutrition counseling, exercise guidance, family care, injury healing and prevention. We help people enjoy life and get healthier. Find out how we can help you! Learn More Here
---
Soul Bottom Wellness - Jaimie Schultz and Cindy Wysocki
Booth:
Offering Advanced Energy work and Myofascial Release demos on the body
About Soul Bottom Wellness: Within the doors of Soul Bottom Wellness, we pride ourselves on creating a safe and loving environment, so that you are able to journey within and rediscover your truth, heart, and passion. Through our individual services, classes, and retreats, you are able to become aware of the ways in which you have been limiting yourself and, with our help are finally able to clear them! You become empowered to make a choice of how to move forward in life, while making peace with all that has happened in the past. You are able to shift your life into something truly magical… The life you were born, and deserve to live. A life of love. Learn More Here
---
Soul Flower Wisdom - Laura Dodge
Booth: Offering intuitive archetype card readings and psychic guidance about how the archetype can be interpreted and integrated into your life for wholeness, balance and empowerment.
About Soul Flower Wisdom: Soul guidance services such as: psychic soul coaching/readings, aura scans, chakra balancing, dream integration and conscious collaging. Unlocking the power of your soul's inner wisdom in daily life (relationships, job, finances, time, etc) for personal empowerment, insight and growth. Helping with understanding the soul messages for patterns and symbols in your world. Learn More Here
---
The Wellness Way- Dr. Andrew Treutelaar
Booth: Offering demonstration of correct thyroid & hormone testing plus examples of food allergy testing
About The Wellness Way: At The Wellness Way, we don't guess – we test! Have you had a test done but told nothing is wrong? So many suffer from hormone imbalance, thyroid problems, GI, sleep, fatigue, infertility – find out what you may be missing and get back to feeling normal. Learn More Here
---
Thrive! Human Capital Development - Lori Kuhn, Jenn Fredericks and Rachel Bellotti
Booth: Offering consultations using the Thrive Universal Tool to help you shift from what you don't want to what you do want, shine the light on what is working and leverage your momentum
About Thrive: Thrive develops personalized strategies that elevate human impact in business, in sport and in life. As people experts, we believe in the innate value of every individual. There is no secret recipe and no perfect formula. Authentic power lies not in being told what to do, but by discerning one's own truth. This inside out approach allows powerful humans to create healthier organizations, teams and communities. Learn More Here
---
Vibrant Health, Vibrant Life - Michele Feltz
Booth: Offering Bio-Individual (genetic) health history assessments.
About Vibrant Health Vibrant Life: Michele offers Holistic Nutrition and Lifestyle programs based on the individual's genetic needs in order to properly heal the gut and immune systems. Learn More Here
---
Waukesha County Green Team - Non Profit
Booth: Offering our One Simple Act© program resources, designed to improve overall health for our families and pets and create sustainable environmental change through simple lifestyle changes. Enter to win Green Living Products!
About Waukesha County Green Team: The Waukesha County Green Team is a voluntary organization of Waukesha County residents who care about the environment in which we live and raise our families. We are concerned about the quality of our water, our food, the air we breathe, and preserving the phenomenal natural resources, abundant in our County. We believe that Waukesha County will continue to be a great place to live for years in the future if we continue to educate ourselves on the wise use of our resources and take action to preserve those resources for today and future generations. Learn More Here
---
Yoga 4 All - Marie Coakley
Booth: Offering children's yoga classes from ages 3-12 (see list of free classes for specific details)
About Yoga 4 All: Yoga 4 All's purpose is to enhance the health and fitness of our community by sharing the numerous documented benefits of yoga with people of every age and ability. Learn More Here.