Giving Back
At Good Harvest Market, we strive to give back to our local community as much as possible to help make our community a better place.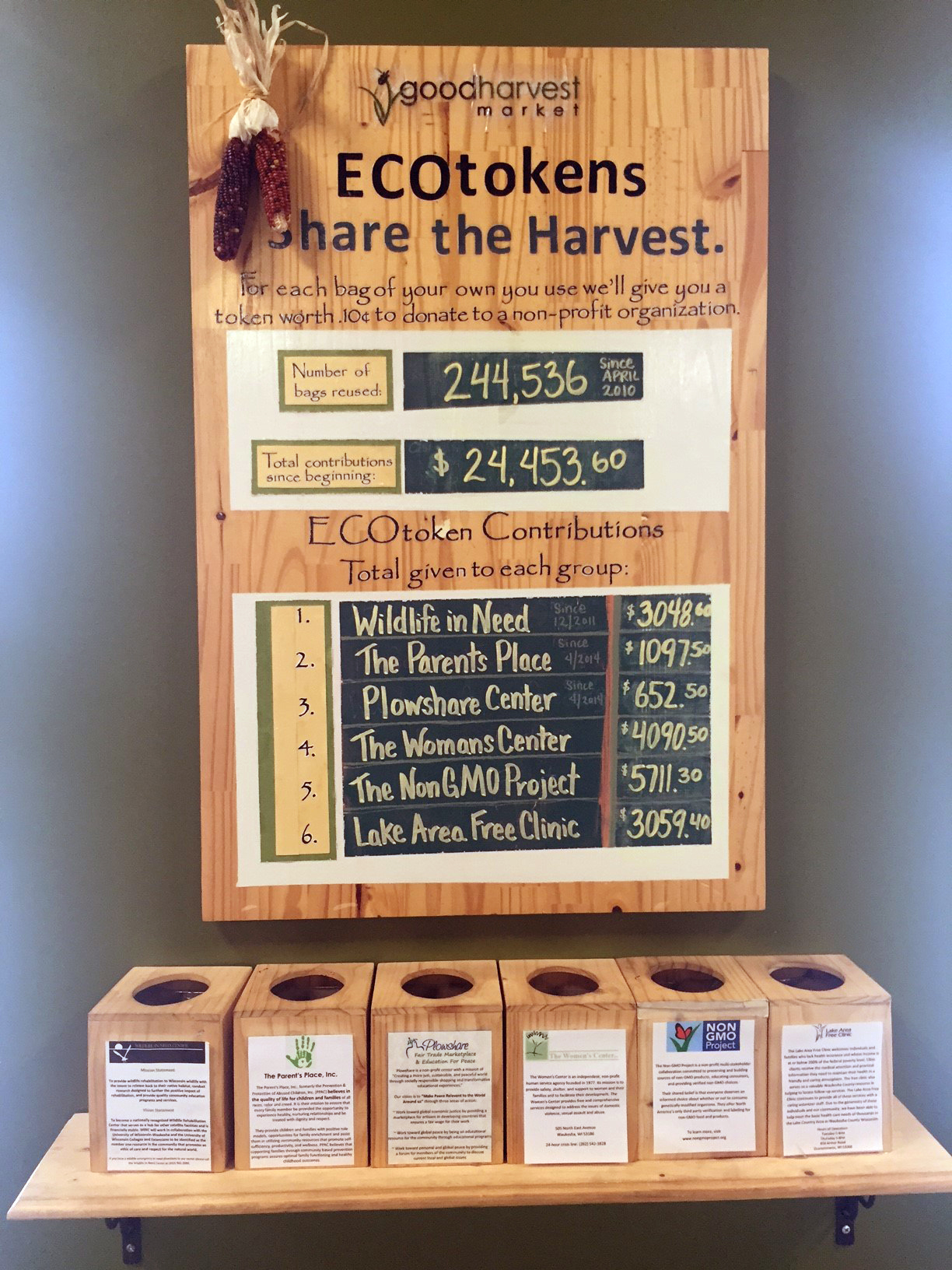 Since 2005, with the help of our customers, we have been fortunate enough to contribute thousands of dollars to a wide range of Waukesha area non-profit organizations whose principles are in alignment with our mission and vision.
Cafe Tip Jar
Every month we select a Waukesha non-profit organization for our cafe tip jar. Customers donate their loose change to the cause and at the end of the month we match the total donation.
---
Eco Tokens
We donate .05 cents to six non-profit agencies for every reusable tote a customer uses in our store. At checkout, customers can select who they want to donate their ECO Tokens to.
---
5&5 Days
Occasionally we will host a 5&5 Day where 5% of the day's sales are donated to the non-profit of our choice and customers can save 5% on their total purchase, or donate their 5% savings to the cause.
Here are some of the organizations we have had the privilege of working with over the years:
Adaptation Festival
Association for the Rights of Citizens with handicaps (ARCh)
Backpack Coalition
Children's Hospital of Wisconsin
CVS Association
​Donna Lexa Arts
Elmbrook Humane Society
Friends of the Pewaukee Library
Friendship Bridge / Oconomowoc Circle
Girls on the Run
Greendale Community Theater
Healing Hearts of Waukesha County
Hope Center of Waukesha
Hope for Haiti
Humane Animal Welfare Society (HAWS)
Hunger Task Force of Milwaukee
Kettle Moraine Education Foundation
La Casa De Esperanza
Lake Area Free Clinic
Lake Country Montessori School
Lakeside School District
Lee National Denim Day
Life Striders Therapeutic Riding Center
Michael Fields Agricultural Institute
Midwest Athletes Against Childhood Cancer
Milwaukee Institute of Art & Design
Milwaukee Public Radio - WUWM
Montessori School of Waukesha
Mothers and More
National Alliance on Mental Illness (NAMI)
National MS Society
Non-GMO Project
NuGenesis Farms
Oconomowoc High School Performing Arts Department
Old World Wisconsin
Parent's Place of Waukesha
Prairie Hill Waldorf School
Rose Glen School
Salus Inc.
St. Joseph's Free Medical and Dental Clinic
Stillwaters Cancer Support Services
Strike for Autism
SummerStage
Tamarak Waldorf School
The Women's Center
Tricia's Troops
Trinity Academy School
Upside Down
Waukesha County Business Alliance
Waukesha County Community Dental Clinic
Waukesha County Food Pantry
Waukesha County Green Team
Waukesha County Land Conservancy
Waukesha County Veteran's Services
Waukesha Creative Arts Project (WCAP)
Waukesha Guitar Town
Waukesha North High School Theater
Waukesha Parks, Recreation & Forestry Department
Waukesha West High School Theater
Waukesha Women's and Girls Fund
Wildlife in Need Center
Wisconsin Public Radio