Harvest Health Fair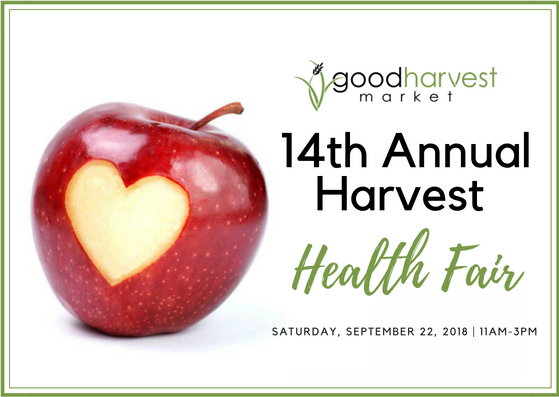 Join us as we celebrate our
14th Annual Harvest Health Fair!
Saturday, September 22nd,
11 AM-3PM
We are happy to be hosting a wonderful combination of local health & wellness professionals who support harmonious living and well-being. You'll have several opportunities to learn about alternative physical, mental, and spiritual health care solutions as well as participate in free mini services or demos.
Health Fair Features
~Good Harvest Booth, Raffles and Prize Wheel - stop at the Good Harvest table when you arrive and "Spin to Win" a free lunch or an awesome prize, plus, collect various samples of homeopathic supplements, beauty products and more!
---
~Local Product Samples - Several Local Wisconsin vendors will be here from 11-3 letting you taste delicious samplings throughout the store. Be sure and stop by to say "Hi" and get a taste from:
Evolve (Gorilly Goods)
Driftless Maple Syrup
Afro Fusion
NessAlla Kombucha
Trust Local Foods
Healthy Roots Juice
Garden of Life
Valentine Coffee
Just Cheese
Plus, Wine Tasting!
---
Free Kid's Activities
Have your kids ever wanted to see the inside of an ambulance or a Fire Engine? The Waukesha Fire Department will be here with either a Fire Engine or an ambulance from 11am-1pm to talk to you and your kids about any questions you have!
Cookout Details
We're grilling up some mouth watering delights from 11am - 3pm!
Come and enjoy a tasty sandwich on a Pretzilla Roll, a St. Pierre Brioche or Udi's Gluten Free Bun for just $3.25/ea!
House-made Brats
Organic Portobello Mushrooms
All Natural Beef Hot Dogs
Plus for just $1.25/ea:
Organic Corn Salad
Potato Chips
Soda
Bottled Water
We will also have local beer on sale and tap Kombucha!
Location
The health fair will take place in the Good Harvest parking lot:
2205 Silvernail Road, Pewaukee
(About 1/4 mile west of Hwy T/Grandview)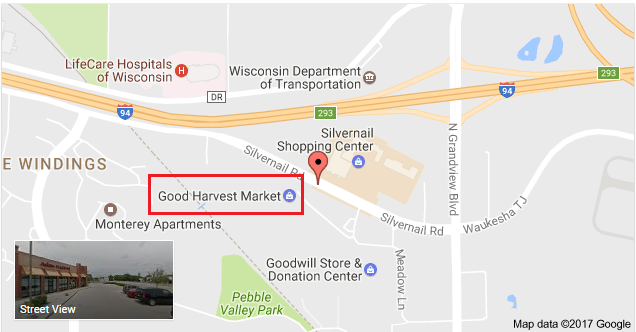 Health Fair Participants & Features
We have an exciting line up of local practitioners and non profit agencies who are joining us this year! See below for details. All consults & services offered are FREE!
Integrative Dental Solutions - Dr. Supriya Shetty & Sarah Damato
Booth: Offering consultations regarding protocols for safe removal of mercury and heavy metals and the mouth and body connection
About Integrative Dental: Our mission is to restore and maintain natural health, function and beauty of our patients' mouths. We will do so using the most advanced techniques and bio-compatible materials known to dentistry in an environment that is relaxing, caring and safe. Most importantly, we will teach our patients how to maintain their health. Learn More Here
---
Profoundly Peaceful Massage & Yoga- Alissa Effland
Booth: Offering short demos of cranial sacral therapy-a form of bodywork using gentle touch to palpate joints in the cranium (head).
About Profoundly Peaceful Massage: A variety of massages are offered to relieve stress, relax muscles, and improve circulation like Swedish, Thai, hot stone, and Lomi Lomi. Yoga classes are offered for adults and children. Sound Healing sessions are offered at full moon, and yoga nidra with singing bowls and the gong are offered to help you feel profoundly peaceful. Learn More Here
---
Renew Holistic Wellness - Kelly Kolodzinski
Booth: Offering food craving analysis and recommendations
About Renew Holistic Wellness: I'm your personal advocate for living an energized passionate life. I work with clients to help them create happy, healthy lives in a way that is flexible, fun and free of denial. I practice a holistic approach to health and wellness, which means we will explore how all areas of your life are connected. I believe you can get healthy and stay healthy. The power is in your hands, I'll teach you to claim it. Learn More Here
---
The Wellness Way- Dr. Andrew Treutelaar
Booth: Offering demonstration of correct thyroid & hormone testing plus examples of food allergy testing
About The Wellness Way: At The Wellness Way, we don't guess – we test! Have you had a test done but told nothing is wrong? So many suffer from hormone imbalance, thyroid problems, GI, sleep, fatigue, infertility – find out what you may be missing and get back to feeling normal. Learn More Here
---
Lake Country Health Center – Dr. Brandon Meye
Booth: Offering consultations and posture/injury screenings.
About Lake Country Health Center: Lake Country Health Center brings you the finest in personalized healthcare. With nearly 25 years of experience, Dr. Daniel Murray, Dr. Brandon Meye, Dr. Noelle Margelowsky, and the integrated team of associates blend traditional chiropractic care with additional therapies like massage, acupuncture, nutrition and rehabilitative exercise to achieve excellent results. Learn More Here
---
Golden Spark Healing & Northern Enlightenment – Joelle Peterson, & Kelly Kehl
Booth: Offering 10-minute Holy Fire Reiki with description and/or 10-minute colored light therapy for happiness or relaxation.
About Golden Spark Healing: Joelle is a certified Emotion Code Practitioner and Reiki Master. She holds certificates in Angelic Guidance and Pendulum Healing and has studied advanced energy and crystal healing for more than 100 hours. Learn More Here
About Northern Enlightenment: Kelly has a Bachelor of Science – Education, is a Certified Hypnotherapist, a Certified Colorpuncturist (CCP) and a Certified Laughter Wellness Coach. Kelly was introduced to Color Light Therapy in January, 2015. During a yoga class, she developed a migraine. Light Therapy was introduced and was so effective, Kelly was inspired to research Colored Light Therapy further. She began her training soon after and completed certification in 2016. Learn More Here
---
Hahn Holistic Health, LLC – Judy Hahn
Booth: Offering a short health survey and review session on personal health and recommendations on gut health and breaking the sugar habit.
About Hahn Holistic Health, LLC: I am a Certified Holistic Health Coach who is passionate about using a Functional Medicine perspective to help women with their health struggles. That means focusing on finding out what the root cause of your diseases and addressing it naturally so you can live a vibrant and healthy life once and for all. Learn More Here
---
Angelik Hands, LLC – Ann Miller, Reiki Master Teacher, Psychic Medium
Booth: Offering 10-minute mini-Reiki sessions every half-hour and the health & wellness benefits of Reiki energy healing therapy.
About Angelik Hands, LLC: Ann Miller is a gifted Psychic Medium, Clairvoyant, Intuitive Empath, Spiritual Mentor, and a certified Reiki Master Teacher. She has been practicing Reiki since 2015 and has a beautiful connection with the Spirit world. Ann receives Spirit's loving messages using her psychic gifts: clairvoyance (clear seeing), clairaudience (hearing or listening), claircognizance (knowing), clairsentience (feeling), and clairofactus (smelling). As a medium, Ann receives messages from loved ones that have passed. Learn More Here
---
Theia Vision Care – Dr. Anna Koeck, CEO
Booth: Offering free comprehensive eye exams to children up to the age of 18 who have never had an eye exam.
About Theia Vision Care: Theia Vision Care is a full service eye and vision care provider, accepting both eye emergencies as well as scheduled appointments. We believe that caring starts by taking the time to listen to the questions and concerns of our patients. Learn More Here
---
Vibrant Health ~ Vibrant Life - Michele Feltz
Booth: Offering Bio-Individual health history assessments.
About Vibrant Health ~ Vibrant Life: Michele offers Intensive Holistic Nutrition and Lifestyle programs based on the individual's genetic needs in order to properly heal the digestive tract/gut, leaky brain, immune system, thyroid and other health issues. Learn More Here
---
Vitality Health & Wellness – Arthur Rapkin
Booth: Offering Chinese pulse diagnosis and samples of exogenous ketones for a Ketogenic diet.
About Vitality Health and Wellness: At Vitality Health and Wellness, we offer a unique, holistic approach to health and wellness care. By integrating a variety of different techniques ranging from acupuncture and laser therapy to nutrition counseling and purification treatments, we create specialized treatment plans specifically tailored to meet our patient's unique wellness needs. Whether you need assistance losing weight, healing from a sports injury or auto accident injury, or feeling more energized and healthier, our team is here to help. We are proud to be your partner on a journey towards wellness and better health! Learn More Here